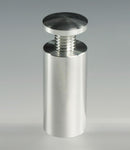 Description
Sign Standoffs and screw covers provide a professional and modern solution to your sign mounting needs. 
Material: Aluminum, Stainless Steel or Brass
Mounting: Through or Edge Grip
Suitable for mounting signs made of: Acrylic, Aluminum, Wood or even Stone panels
Sign panel is not included.
Standoffs provide modern signage presentation in an office, lobby, lounge, waiting area or bank.